Weaver Xtreme



One Theme to Design Them All
Weaver Xtreme is the original, and still the best, fully customizable classic WordPress theme. Weaver Xtreme Version 6.2.1 is the latest version of the theme. Weaver Xtreme's advanced design is based on over ten years of experience with previous Weaver themes and the input of thousands of users.
Not everyone is ready to switch the to a Block Theme,  Weaver Xtreme uses the WordPress Customizer interface. You can easily find the exact option you need to customize virtually any element of your site. Weaver Xtreme also makes it easy to build full-width sites, including various ways to display background images, including Parallax. All, just a few check-boxes away.
---
Weaver Xtreme Puts You in Control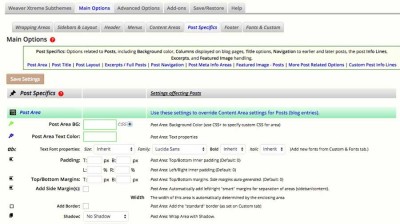 Xtreme Total Control: Just like its predecessors, Weaver Xtreme gives you total control over the look of your site. It has easy-to-use "checkbox" options to control virtually every aspect of your site's design. You can change layouts, colors, fonts, sidebars, and much much more.
Xtreme Control of the Header: Include site title, a header image, menu bars – or not. Use the header widget area to add widgets to the header. Use the header HTML area to totally create your own header look. You can include a slide open search button, and add a "mini-menu" suitable for a small auxiliary menu with just a few items. Make the header full width. And all this with just a few clicks on the Weaver Xtreme Header admin page. Weaver Xtreme is one of the first themes to support the new WordPress 4.7 Header Video feature!
Xtreme Control of the Footer: You have similar control of the Footer area – a widget area that automatically adjusts to the number of columns you set. Control the width of the Footer.
Xtreme Control of Menus: Each of the main menus (primary and secondary) has an independent options section, so you can style these menus independently. Weaver Xtreme Plus offers even more control of your menus, including "Smart Menus" based menus, plus extra menus in several styles: standard menu bar, accordion vertical menu perfect for sidebars, simple vertical menus, and simple horizontal menus.

Xtreme Control of Layout: You have exceptional control over site layout. In addition to independent control of the Header, Content, and Footer widths, you can control the widths of the sidebars. There are six different layouts of the 2 main sidebars, plus 9 other widget areas. You can specify how many columns each widget area displays, and with Weaver Xtreme Plus, even the width of widget area columns.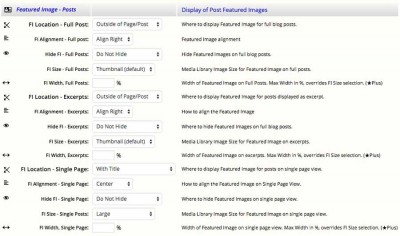 Xtreme Control of Featured Images: Weaver Xtreme gives you about all the options you could image for where and how to display your Featured Images, for both Pages and Posts. You can control where the FI is displayed (5 choices), the size, and when (on pages, excerpted posts, full posts, and the single post page). You can even use the FI as a replacement image for the default header image.
Xtreme Selective Post Display: Using the "Page with Posts" page template, you can turn your site into a complete CMS. You can select exactly which posts you want to display on a given page – by category, tag, author, and more. Includes Per-Page control of which elements will be displayed. And there is even a companion plugin that allows you to selectively display posts on regular pages, or in widgets anywhere.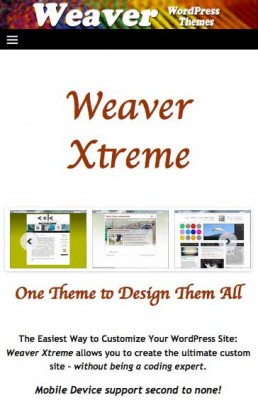 Xtreme Responsiveness: Site HTML structure redesigned for optimal responsive display. Sidebars will automatically stack under the content on small screens. You can even have a sidebar stack above the content to allow complete site navigation just from the sidebar.
Xtreme Mobile Menu: The best mobile menu ever! The mobile menu displayed on small devices is one of the best you'll find on any website. Unlike most other mobile menus, the Weaver Xtreme mobile menu doesn't show every menu item in one big blob, but folds submenus until the visitor taps to open them. And no fancy effects – just a compact, easy to use menu that your mobile visitors will love to use.
Xtreme Support: To start with, Weaver Xtreme has an interactive Theme Guide site that covers the essentials of using the theme. And Weaver has an extremely active Support Forum with lots of active members, and moderators who just love to help solve site design puzzles!
---
Even More with Weaver Xtreme Plus
Weaver Xtreme is complemented by a premium plugin – Weaver Xtreme Plus. This plugin adds over 100 new options and features to Weaver Xtreme – similar to those provided by Weaver II Pro.
---